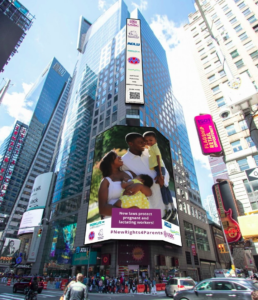 In honor of National Breastfeeding Month, we are lighting up New York Times Square with a billboard ad for the Pregnant Worker Fairness Act and PUMP for Nursing Mothers Act which secured strong protections for pregnant and lactating workers nationwide. Today's celebration was filled with joy, pride, and determination to continue the important work of spreading the word to every worker about their new rights– from our detailed know-your-rights guides to a shiny billboard in one of the country's most visited venues.
At the rally, WorkLife Law senior staff attorney Jessica Lee shared inspiring words along with our partners and former Congresswoman Carolyn B. Maloney, "Today we're not just celebrating two new laws, we're celebrating the historic transformation of the American workplace into one that is actually accessible for pregnant and postpartum workers," remarked Jessica.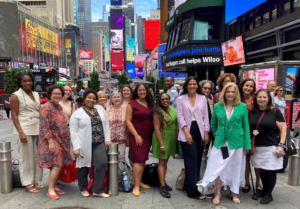 "Thanks to the PUMP Act and the Pregnant Workers Fairness Act, the days of pregnant and lactating workers being forced to choose between their wellbeing and a paycheck are over."
The Times Square billboard and celebration is a collaboration between the Center for WorkLife Law, MomsRising, the U.S. Breastfeeding Committee, A Better Balance, the ACLU, and the National WIC Association.