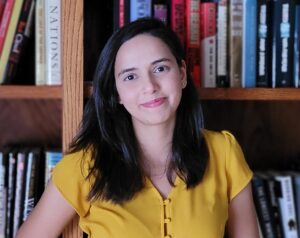 The Center for WorkLife Law is pleased to welcome Asma Ghani as our new Research Associate. Asma has a background in Social Psychology and her research expertise lies in examining how multiple social identities and systems of oppression overlap to create multilayered inequity and how best to mitigate that inequity. Working with the research team, Asma will be running a series of experiments with companies designed to reduce bias in hiring, performance evaluations, and access to career-enhancing opportunities.
"WorkLife Law provides me with the opportunity to bridge the divide between being an academic researcher and an advocate for marginalized groups," said Asma. "I am thrilled for the opportunity to continue pursuing my passion for reducing inequities through evidence-based research and addressing the deep-rooted problems of structural inequity in our society."
Asma received her B.Sc. in Social Sciences from the Lahore University of Management Sciences in Pakistan. She then got her M.S.Ed. in Counseling Education from Indiana University-Bloomington while on the Fulbright Scholarship. Her counseling experiences with underserved populations sparked her interest in researching prejudice and intersectional identities, leading to the pursuit of a Ph.D. in Social Psychology. She holds a Master's degree in Social Psychology and is currently a Ph.D. Candidate at Harvard University.