Key Areas of Research
New Models of Legal Practice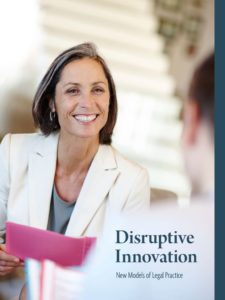 A market failure has existed in the legal profession for over two decades: many lawyers desire better work-life balance than is on offer either at law firms or in house, yet no organizations arose to fill that demand. Suddenly, in recent years, a wide variety of new models of legal practice have arisen that offer attorneys better work-life balance. These include:
Virtual law firms composed entirely to telecommuters who set their own schedules and annual hours;
Organizations that place experienced in-house lawyers in corporations, either for short-term stints or for longer-term engagements lasting many months;
Small firms, often composed of refugees from Big Law, that link better work-life balance for their attorneys with lower overhead for their clients.
With generous funding from LEXIS-NEXIS, Joan C. Williams, Aaron Platt, and Jessica Lee produced a comprehensive report on these new models of legal practice.
View Report
Double Jeopardy
WorkLife Law's signature approach to gender bias goes beyond the insight that implicit bias affects everyone to document in detail the specific ways gender bias affects everyday workplace interactions. Our approach documents the four basic patterns of gender bias.
Once the social science has been organized in this way, one can begin a project that is long overdue: to study how the experience of gender bias differs by race. WorkLife Law is currently doing ground-breaking research on this issue, exploring how the experience of gender bias differs by race among women scientists of color, with the support of a grant from the National Science Foundation.
The PAR Research Institute currently is seeking funding to explore this issue among women lawyers of color, as the first step towards integrating the literatures on gender and racial bias. Organizations and individuals interesting in participating in this effort should contact us.