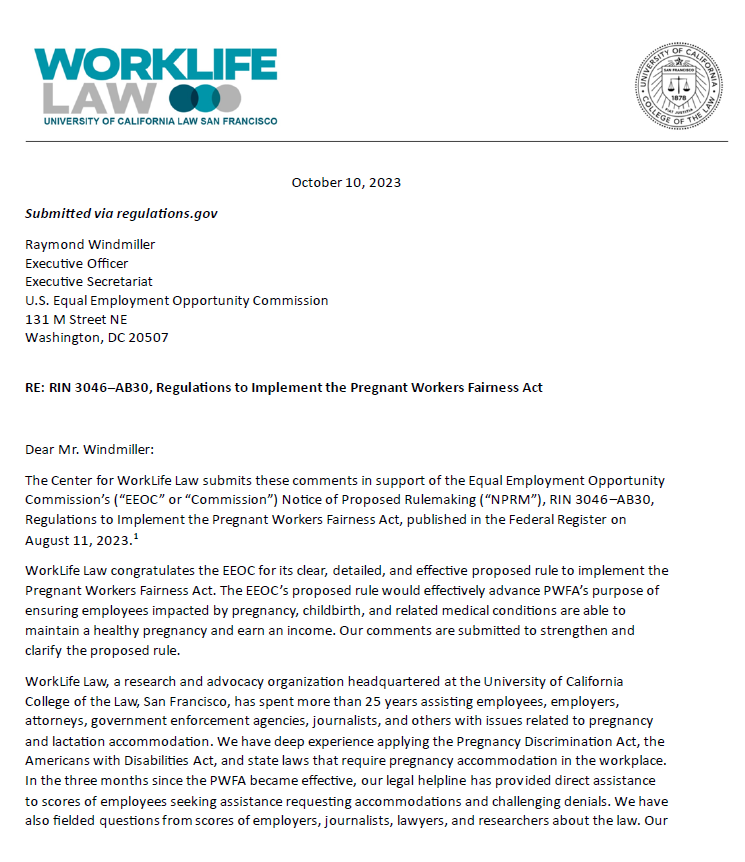 Today the Center for WorkLife Law filed comments with the Equal Employment Opportunity Commission (EEOC) offering feedback on its proposed regulations implementing the Pregnant Worker Fairness Act. While the law is already robust, our priority is advocating for the strongest interpretation of the law to protect workers, but especially historically excluded communities, who need accommodations to stay healthy during pregnancy, childbirth, or if they have related medical conditions. 
For the past couple months, WorkLife Law experts have been carefully reviewing the proposed rule and interpretive guidance, while fielding requests for assistance from workers seeking pregnancy accommodations under the new law. We are proud to serve as a thought leader in the gender and racial justice community and have provided technical support and feedback to dozens of other organizations as they grappled with the implications of the proposed regulations and crafted their own formal comments. 
WorkLife Law's own comment is grounded in the lessons we've learned through assisting the scores of workers who have called our free legal helpline since the new law went into effect seeking accommodations to stay healthy and support their families. Our comments are informed by their real world experiences and center the needs of low-wage and BIPOC workers in the most physically demanding jobs. WorkLife Law is proud to engage in continued legal advocacy that ensures the Pregnant Workers Fairness Act lives up to its promise for the most at-risk workers and their families.